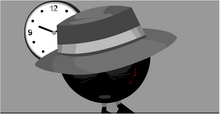 Ben was Vinnie's boss. Appeared only in Sift Heads 2.
It was the one who offered target contracts to Vinnie in Sift Heads 2, and a member of the Gray Mafia until he is killed and since then Vinnie works alone.
Ben found and gave Vinnie missions who would come to his office to receive them and would compensate him with money for the work he did. Ben is eventually found in his office, dead, by Vinnie who finds a mysterious note that tells him to come find the assassin herself. Vinnie eventually takes his revenge by killing her.