Rino was a soldati of the Red Mafia, son of Antonio and an unknown mother, and Luzio's half-younger brother born in 1989. their father is same person but their mother was different persons. their father is Antonio.
Sift Heads Street Wars - Prologue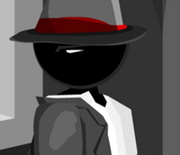 Rino first appears in Sift Heads Street Wars - Prologue, along with his older brother Luzio. As his organization, the Red Mafia his boss and his older brother is Luzio, is offering 20 million to anyone who kills Vinnie, he and his older brother Luzio, try to do everything to get the money. Rino and Luzio find Vinnie, but before he conseguise kill him, Vinnie flees on a train with Kiro. Vinnie tries to find Rino and Luzio but he only finds a cocaine plantation in Brazil, anyway, Vinnie Burns planting, causing a great loss to the Red Mafia.
While Vinnie was in Brazil, Rino and Luzio captured Shorty.
Sift Heads - Cartels
Vinnie is still looking for Shorty, when he thinks he found her, he discovers that it was a trap, and the Red Mafia takes two shots in the stomach. Rino Luzio and put it in the trunk of a car and put it in the water to kill Vinnie. Vinnie manages to escape.
When Vinnie is reunited with Kiro, he says he knows where Luzio and Rino are. The two then finally try to finish it. Vinnie kills Rino and rescues Shorty.
Sift Heads Cartels - Act 2
In this act, there is a funeral of Rino. During the funeral, Vinnie tries to kill Luzio, but police stopped him and arrested Luzio.