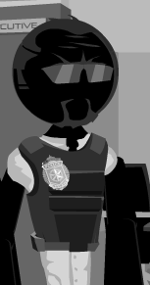 Inspector Sam Lawrence is a cop, and his partner is Kate.
Sift Heads - Cartels Act 2
Sam was behind Vinnie at that time saying that they wanted to catch live Luzio, he also explains that after the death of Commissioner, Vinnie became a "ghost", but still they managed to follow in his footsteps. Vinnie says that they would not be able to leave Luzio in jail, and it would be better if he kills himself. Vinnie then escapes the site, along with Shorty. As Vinnie had said before, they could not leave Luzio in jail. Kate says Vinnie was right; Sam says she was beginning to wonder a criminal. She says "he settled down the organization better than we did," Sam does not care what she says and walks away.
Sift Heads - Cartels Act 3
Sam appears again in Sift Heads - Cartels Act 3.
At the beginning of the game, Sam appears on TV in a report on illegal gambling complex that was attacked by Vinnie and Kiro. He says he knows who did it and that Vinnie should be arrested. Once Vinnie was attacked by Shigeru, Kiro and he went to the headquarters of the Yakuza to kill him. Vinnie got out alive of Yakuza's HQ and killed Shigeru, but Sam (along with several other police) arrested him.