"
There's plenty of international heads to be sifted
"
 

— Vinnie
Sift Heads 4: Vinnie's Paradise is the fifth Sift Heads game in the series.
Plot
The game starts off with a news report about the end of Sift Heads 3 and with the streets of Chicago clear Vinnie decides to search for targets around the world. After Vinnie had killed the Ralph Ducan, Vinnie decided to have a vacation, which resulted in having lots of missions all over the world. There are no major plots that affected Vinnie's story except killing Kiro's brother in is last mission in Japan.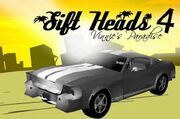 Gameplay
Unlike other games in the series, Vinnie is unable to die in the game, making it completely a sniper-based game. At the end of all missions, the player is given a rank (Novice or Sifter) depending on their performance in the game.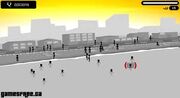 It features similar gameplay to Sift Heads and Sift Heads 2 instead of the vastly different side-scrolling of Sift Heads 3 because it does have a more open mission selection allowing you to choose from a variety of missions across the world anytime you want. Each country has its separate side plot, so each mission you do in a particular country is connected to missions in the same country.
Trivia
This is Shorty's second appearance on the series.
One of the missions in Tokyo, Japan where you get to kill Kiro's Brother is a prequel to Sift Renegade and was remade in Sift Renegade 3 which is also a prequel to the same game.
This is the first Sift Heads game not to feature a Health Bar.
This is the first Sift Heads game to not take place in Chicago, USA.